22 december 2015
"The evening in the "Empire"
November we went with a group to the theater M.Auezov. The performance was called "The evening in the "Empire", it was very interesting and exciting. Actors of the theater played skillfully, penetrating and could inform to the audience all essence of the performance.
There was a birthday of the owner of restaurant, businessman Aydar in the restaurant "Empire". All goes perfectly.
However "The whole world — theater and people in it – the actors" involuntarily occur Shakespearean lines…
The evening gradually opens the real face of close people and friends …
Subjects which rise in this performance are actual at all times. And it is very important to think of values of this world.
And we look forward to see new performances.
Kuanysh Tungenbaeva, adviser of the group 15-РЭиС-609-1р-2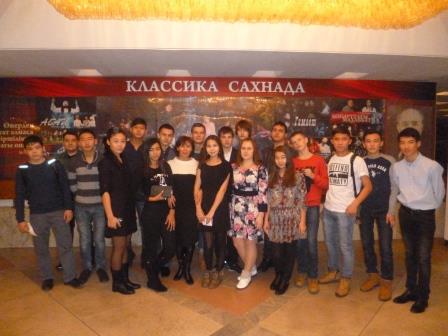 Последние новости
19.02.21
Prevention of juvenile delinquency
23.08.17
Nothing in our lives isn't so cheap and isn't appreciated as expensively as knowledge and qualification. When we choose our professions, we create a method and a way of life.
14.05.15
This year «Rotaract club of Almaty» and «Rotaract club of New Territories (Hong Kong)» together with students of KAU held a major charity project in which visited the orphanage...