13 february 2014
Preparing professional translators requires hard work
With the development of new technology and science today the requirements to quality of education becomes more and more problematic issue in the sphere of education. Students can get any information from the Internet and traditional methods of teaching sometimes are not worth to use. Information technology helps students to develop their skills in different subjects, that's why to interest students attention to the subjects we need to vary our methods in teaching.
In this regard teachers of English language attend different kinds of seminars, and training classes, are being introduced with innovation in methods of teaching.
The seminar "Current Trends in Modern Translation Studies" for teachers was held at the Faculty of Philology at Suleyman Demirel University on the 2nd of February. The aim of this seminar was teaching students of Translation Studies using modern technology, transforming idioms and proverbs. During the seminar we were informed with the methods of Teaching Translation and exchanged the experiences. Most of all we were satisfied with the lecture of the teacher of SDU, doctor of philology sciences, professor Zauresh Akhmetzhanova " Translator's Lingua-cultural competence". Doctor of philology sciences, professor Aibarsha Islam in her lecture " Topical problems of oral translation" drew our attention to the difficulties and problems of oral translation.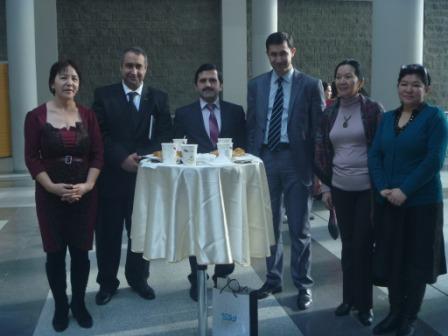 " LimOn Global Company" in their report " E-translation system SOYLEM" attract our attention to the on-line translation. Doctor of philology sciences, professor(SDU) Leila Mirzoyeva "Creative techniques in to be translators training". MA, Senior Instructor (SDU) "Techniques of Simultaneous Translation", MA, Senior Instructor (SDU) Yakup Doganay "Contemprory Methods of Teaching Translation" all these reports and activities gave us more useful things. We came to the conclusion that the important task is teaching students the theories and techniques of translation and interpreting, and provided with the necessary cultural background and skills for a career in translation and interpreting.
Последние новости
19.02.21
Prevention of juvenile delinquency
23.08.17
Nothing in our lives isn't so cheap and isn't appreciated as expensively as knowledge and qualification. When we choose our professions, we create a method and a way of life.
22.12.15
November we went with a group to the theater M.Auezov. The performance was called "The evening in the "Empire", it was very interesting and exciting. Actors of the theater played ski...